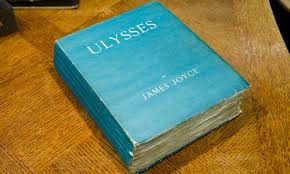 This is my first ever book review so I hope I don't mess up. I recently started to read Ulysses by James Joyce. It's a classic. Some tormented by it, some moved by it. I wanted to find out for myself, so I bought a copy. My review is as follows:
What a piece of shit. I read 25 pages and I still have no idea what the f#ck this guy is even talking about so I threw it across the room in a fit of anger. Fuck this book. To all those people who posted reviews of this on Youtube talking about "what a brilliant piece of literature" this book is..?
I hate you.
Fuck this book, fuck James Joyce, and fuck the bookstore that sold it to me. Oh yeah and fuck the editor.
Reading the first 25 pages was kind of like trying to read someone put their fingers to a chalkboard for an hour. It's awful. Just awful. I bet if you look on the night stand of most suicide victims you will find a copy of this piece of shit book. I'm actually angry at myself for even trying to read it and come to think of it I'm starting to get angry that you are still reading this post.
I'm going to go leaf through a copy of "Penthouse Letters" for an hour to wash all that pretentious and mystifying bullshit out of my head. I'm just sick over this whole thing.
On the other hand, I never give up. So in about a month, after I have recovered, I will pick it up again and try to read the whole thing so I can give you a better review. When I do, God help me, pray I don't end up in a damn loony bin. Read this article if you think I'm not the only one who thinks this way about this twenty dollar joint rolling tray:    http://www.dailybulletin.com/article/ZZ/20130615/NEWS/130619519
If you found this book review to be helpful please subscribe.